Date Visited: 25th March 2014
Have you ever thought of experience the traditional local costume whenever travel foreign countries? What's more when you can experience it for free, without any additional charge? Yes, you can do so when you're in South Korea.
My family and I got the opportunity to experience Hanbok, the traditional outfit for the Korean when we're in Seoul and it's absolutely free of charge. Thanks to
Kampungboycitygal
, one of my favourite blog when relating to travel for sharing this, or else we will going back Malaysia with regret and disappointment.
#1: M Plaza of Myeongdong Street
Where to experience this? It is located at Seoul Global Culture & Tourism Center on the 5th floor of M Plaza in the hustle and bustle of Myeongdong Street. It is easily to spot M Plaza once you saw Zara and Forever 21 in between. Although the center starts at 10.30 am, but it is advisable to go early for registration purpose. First come, first served basis and advanced registration is not available.
#2: Registration counter. First come, first served basis.
Advanced registration is not available
For each time slot which takes about half an hour, only two groups (maximum 6 per group) are allowed to enter for free hanbok experience and phototaking. Luckily us as we got the second time slot, which was at 11 am or else, we might need to wait for another few hours before our turn. Like they said, the early bird gets the worm.
#3: Not just for free hanbok experience, there are also traditional art classes available here
#4: Various of hanbok to choose from
Now, let the photos do the talk: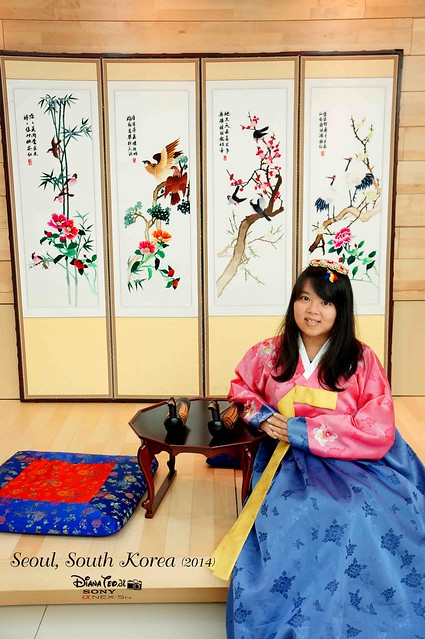 #5: Love the combination of these hanbok colours adding with simple accessories
#6: Yours truly and baby sister
Although it was kinda rush for the phototaking, but I glad and delightful to see both my mom and sister enjoyed this fun moment experience to the fullest. Do we wanna try for second time again? Of course yes! Afterall, it's free.
How To Get Here
Myeong-dong Station - Exit 6. Walk straight until you see M Plaza on right side. Seoul Global Culture & Tourism Center is located on the 5th floor of M Plaza.
Korean Culture Experience: 10:30 am to 6:00 pm daily