Going Korea for the second time wasn't really part of my plan but my mom and sis really love to go there and hence, they assigned me to become their personal tour guide. It was kinda last minute decision that I don't even have the time to do a well-preparation. Simply amended my itinerary which I did for the previous trip.
#1: So here we off to South Korea with Korean Air and the flight duration from Kota Kinabalu directly to Seoul only took 5 hours, comparing with AirAsia X from Kuala Lumpur which took 7 and half hours.
Initially we plan to fly with Asiana Airlines or Cathay Pacific but Asiana Airlines was too expensive whereas Cathay Pacific required transit in Hong Kong for few hours. After comparing both fares between Cathay Pacific and Korean Air, we chosen Korean Air since we never flew before with them. It was a pleasant flight and we really enjoyed it.
#2: Once we landed Incheon International Airport, we took commuter train to Seoul Station for the Korail exchange bound to Busan city,
South Korea's second largest metropolis after Seoul.
#3: Sun & Fun at Hauendae Beach - the most popular and well-known beach in South Korea. But too bad the weather in Busan is so cold and windy.
#4: Exploring the colourful and cherry alleyways of Busan's Gamcheon Culture Village. It's also known as "Korea's Santorini". My most favourite attraction comparing the rest.
#5: Another Busan famous attraction, Taejongdae Resort Park which located 20 minutes away from Busan Station. The thing must see here is the Yeongdo Lighthouse.
#6: The second gong or palace I visited in Seoul - Changdeokgung Palace. It was added to the UNESCO World Heritage List.
#7: When my mom and sis went to Everland Resort Park, I decided not to join and wandered around Seoul alone. I went to Ewha Womans University and oh man, it's so enchanted and beautiful making me wanna return back to uni life again.
#8: Since I missed out Itaewon during my maiden trip, so for this time around I must go.
#9: Took bus alone to N Seoul Tower
#10: A day before we left, we went Coex Aquarium. Again, another of my travel wishlist accomplished.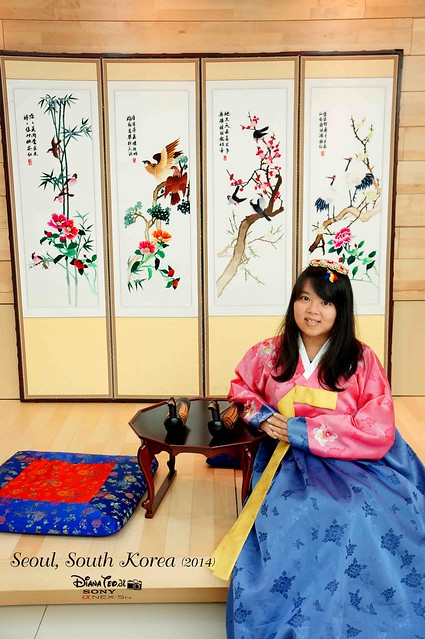 #11: Can't believe I got to try free hanbok experience for the second time. Thanks to Kampungboycitygal's blog (one of my favourite blog when relating to travel) for the sharing this.
#12: I'm not really fond of Korean cuisines but then these were the best meals I ever had in South Korea - jjim dalk, budae jjigae, Korean BBQ and dak-galbi. The one on the bottom right, dak-galbi seems halal cause I saw many Muslims were eating there.
We went South Korea seems to be pretty early for spring season but then we bumped into sakura (
eventhough it was few
) in Seoul. This is the third time I stumbled upon sakura or known as cherry blossom (
after the first one in Japan last year and in Inle Lake, Myanmar early of this year
)
Till then, hope to see you soon, South Korea. Wish I could go back for the third visit. Perhaps I should plan to go during middle of April next year for sakura.
#daydreaming
again
Guess I love East Asia countries so much (
Hong Kong, Macau, China, South Korea, Japan & Taiwan
) than South East Asia countries that I don't mind to do another repeating visits.
P/S:
Might not able to blog my latest Seoul & Busan travelogue at this moment cause catching up to blog my outdated and overdue travelogues. However, if you have any enquiry regarding this trip of mine, you are welcome to leave me a message at
dt
dianateo@gmail.com
, or you can even check my first ever trip to South Korea (Seoul & Jeju Island) travelogue -
Summary of 8 Days of Seoul & Jeju Island Travelogue
.