"Miss Diana, can we go to Harry Potter Studio in London?"
This is what my two students requested when we went to London two years ago for International Girl Guides and Girl Scouts camp held in Leicestershire. Although I'm not big fan of this series of fantasy novels but I watched all the eight fantasy films instead. Plus, I thought it wasn't a bad idea after all to include this as one of my London itineraries since we had three days to explore and discover London before entering into the camp site.
PURCHASE TICKETS IN ADVANCE
From what I research, the tickets are not available for sale on the spot, hence you need to purchase in advance and pre-book the desired time and date you intend to visit. For more details about the latest admission fee, availability of date and time, you can check out
Warner Bros. Studio Tour website here
. I would advise to book at least 2 months in advance because it's so popular that it might sold out quickly.
#1: Purchase your tickets in advance cause they are not available for sale on the spot

Once you receive your booking confirmation via email, don't forget to print it out and bring along for the trip in order to print out the actual tickets from the kiosk nearby the main entrance.
HOW TO GET HERE FROM LONDON
The Harry Potter Studio Tour is situated quite distance away from London city. It takes at least 45 minutes to an hour from London itself to reach here via train. The Studio Tour's nearest railway station is Watford Junction which departing from London Euston. From Watford Junction, look for the Warner Bros. Studio Tour shuttle buses which located on the left side of the train station.
#2: Shuttle bus from Watford Junction


Single trip for shuttle bus cost
£
2.00 while a return trip cost
£
2.50. Bear in mind that to ready your cash as credit and debit cards are not acceptable.
Hence, it is advisable to plan your journey ahead due it's long journey to travel all the way from central London to Harry Potter Studio Tour. Even if you arrive the studio earlier, you are allowed to enter and you can utilise your time for more photo opportunity instead. But in the case you are late, there might be denied entry.
#3: After the long journey, finally we arrived.
#4: Since we arrived earlier, we took the opportunity for photoshooting here and there
#5: Now get ready to explore the wonders of the wizarding world
The studio tour started by queuing on the line before we're escorted into a room. Even while on the queue, be sure to check your left because you will spot....
#6: The cupboard under the stairs - Harry Potter's first bedroom
Right after we were escorted into a room, there is a short introduction video right in front of Hogwart School of Witchcraft and Wizardry's door. At first, we thought it's just merely part of the design for the studio tour but not until the door opened itself...
#7:
Hogwart School of Witchcraft and Wizardry's door
#8: The Great Hall of Hogwarts - This is where professors and students gather for dine and congregate.
Frankly speaking, my jaw was literally dropping when stepping into The Great Hall. I don't think it's just happened to me, probably my two students too. We felt like we're like somehow inside the movie itself. Features with all the original sets, costumes and props from the movie, the studio is completely stunning and amazing. The guided tour ended at The Great Hall and from there, we're allow to roam around at our own pace.
#9: Hufflepuff House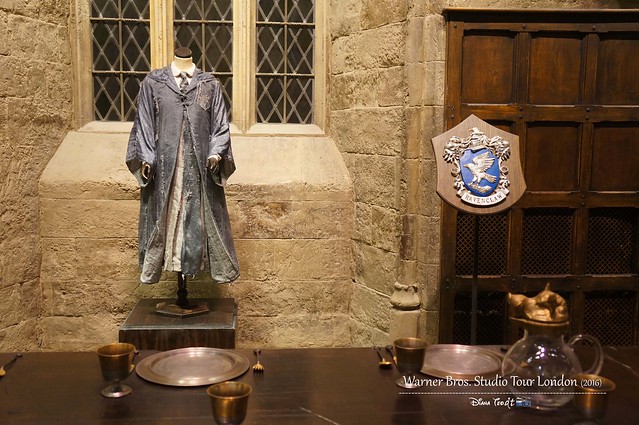 #10: Ravenclaw House
#11: Slytherin House
#12: Gryffindor House - Can you guess who are in this house?
#13: Rubeus Hagrid costume
#14: Professor Dumbledor along with Professor McGonagall and Professonal Snape
#15: Yule Ball Ice Sculpture from Harry Potter and the Goblet of Fire
#16: The common room for Gryffindor
#17: The Hogwart's clock pendulum as featured in Harry Potter and the Prisoner of Azkaban
#18: Statue staircase
#19: Professor Dumbledor's office
#20: Professor Snape's costume and the portions classroom
#21: Hagrid's hut
#22: The entrance to the Chamber of Secrets
#23: The game of Quidditch costumes and props
#24: Ministry of Magic Atrium
#25: Umbridge's office - Decorated completely in pink with ornate furnishing and cat plates on the wall
#26: Shades of pink
#27: Platform 9 3/4 - One of the popular shooting spot
#28: Red Hogwarts Railways
Right after we went through The Great Hall and The Big Room which houses variety of original sets, costumes and props, we came into The Backlot, home to several of outdoor exhibits such as the Knight Bus, Privet Drive Houses, Hogwarts Bridge and The Potter House from Godrick's Hollow. Here, visitors are allowed to enjoy their food and drinks at the cafeteria serving cakes, sandwiches and hot food. However, I found the choice of the food is relatively limited and when seeing the price, obviously be ready for the pricey price tag. Anyhow, don't forget to purchase a cup of Butterbeer, the drink that features in the Harry Potter books and films.
#29: The Knight bus, the triple decker bus that carry Harry to the Leaky Cauldron
#30: Hogwart's Bridge as seen in Harry Potter and The Prisoner of Azkaban
#31: Room of flying letters
We then proceeded into the second indoor studio houses creature effects and art department.
#32: A life-size model of Dobby
#33: Diagon Alley set
#34: Giant replica of Hogwart's Castle to end the tour
Just like any rest of the rides and attractions of theme parks, you will come across a gift shop when exiting. Harry Potter Studio Tour is part of that too. The struggle is real and trust me, it's not easy to control the shopaholic addiction inside of us. We spent like almost an hour inside the gift shop hunting for these souvenirs to bring back home until one of my students eventually said, "Shut up and just take all my money!". What to expect inside this gift shop; hoodie and T-shirt with the respective houses, wizard wands, books, cups, soft toys, keychains, magnets and more. We were totally spoiled by the choices but at the same time, we were dilemma with the exchange currency.
#35: Gift shop that will make you go gaga!
#36: A t-shirt cost me almost

£

23 (approx. to RM128) whereas for keychains and magnets cost around

£

7-10 each.
For almost four hours, my students and I were enirely immersed in this magical of witchcrafting and wizarding world of Harry Potter. Each and every details from all the 8 movies can be seen and experienced here. We really wish we could stay more longer but thinking of the long journey going back to central London, it's best for us to leave earlier. All-in-all, this studio tour is worth to visit and absolutely a memorable experience ever, especially for die-hard Potterhead fans.
Date Visited: 28th July 2016